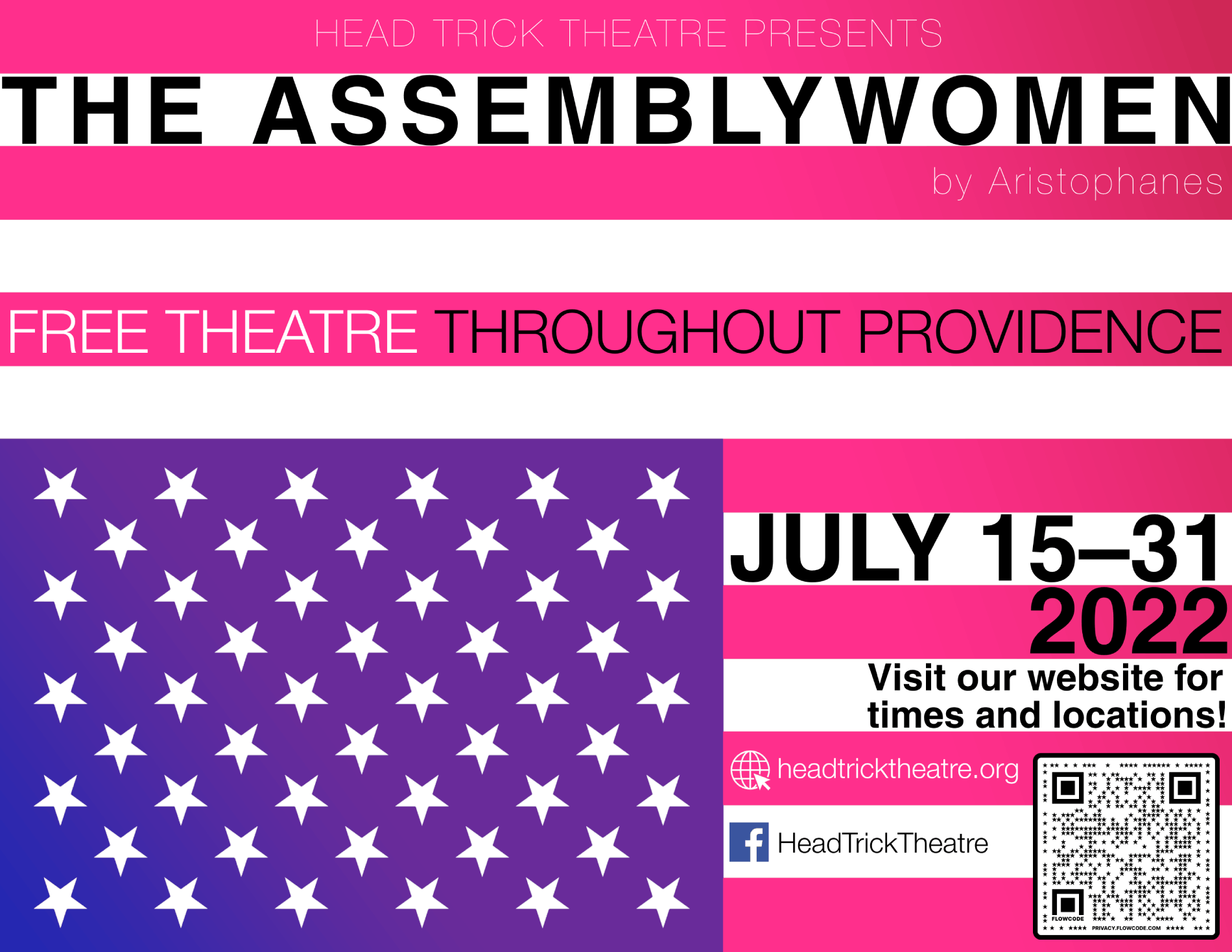 Praxagora and her friends are fed up. Every day, the news from local politics is full of nothing but corruption, stagnation, fickleness, and spite. What's a gang of women in ancient Athens, where only men can attend Assembly, to do? Why, steal their husbands' clothes, put on fake beards, and vote to put women in charge once and for all, of course. But will the people of Athens accept their radical proposals? Find out in Head Trick Theatre's production of Aristophanes's chaotic farce, THE ASSEMBLYWOMEN, performed July 15-31, 2022 in various locations throughout Providence, including the RISD Museum, Riffraff Bookstore, and city parks.
THE ASSEMBLYWOMEN
by Aristophanes
adapted and directed by Rebecca Maxfield
Praxagora…..Sarah Dunn
Blepyrus…..Ryk McIntyre
1st Chorus/2nd Old Woman…..Luyuan Nathan
2nd Chorus/Girl…..Audrey Dubois
3rd Chorus/1st Old Woman…..Gail Rosewood (1st weekend); Tracy Coffey (2nd/3rd weekend)
4th Chorus/3rd Old Woman…..Cherylee Dumas
Chremes/Epigenes…..JT Cunha
Neighbor…..Sammie Jackson
Aristophanes/Selfish Man…..Ezra Jordan
Mask Design…..Charlie Santos
Stage Management…..Audrey Dubois
---
*In the event of inclement weather, an announcement that an outdoor performance is canceled, relocated to a rain location, or going forward in its original location will be posted here and on our Facebook page two hours before curtain. Masks are recommended at outdoor performances.
†Masks are required at indoor performances.
The runtime of the show is approximately one hour.
Admission is free, but donations are accepted online and at the show!
Please note that The Assemblywomen contains sexual and scatological humor.
Stay tuned for 2022-2023 announcements!