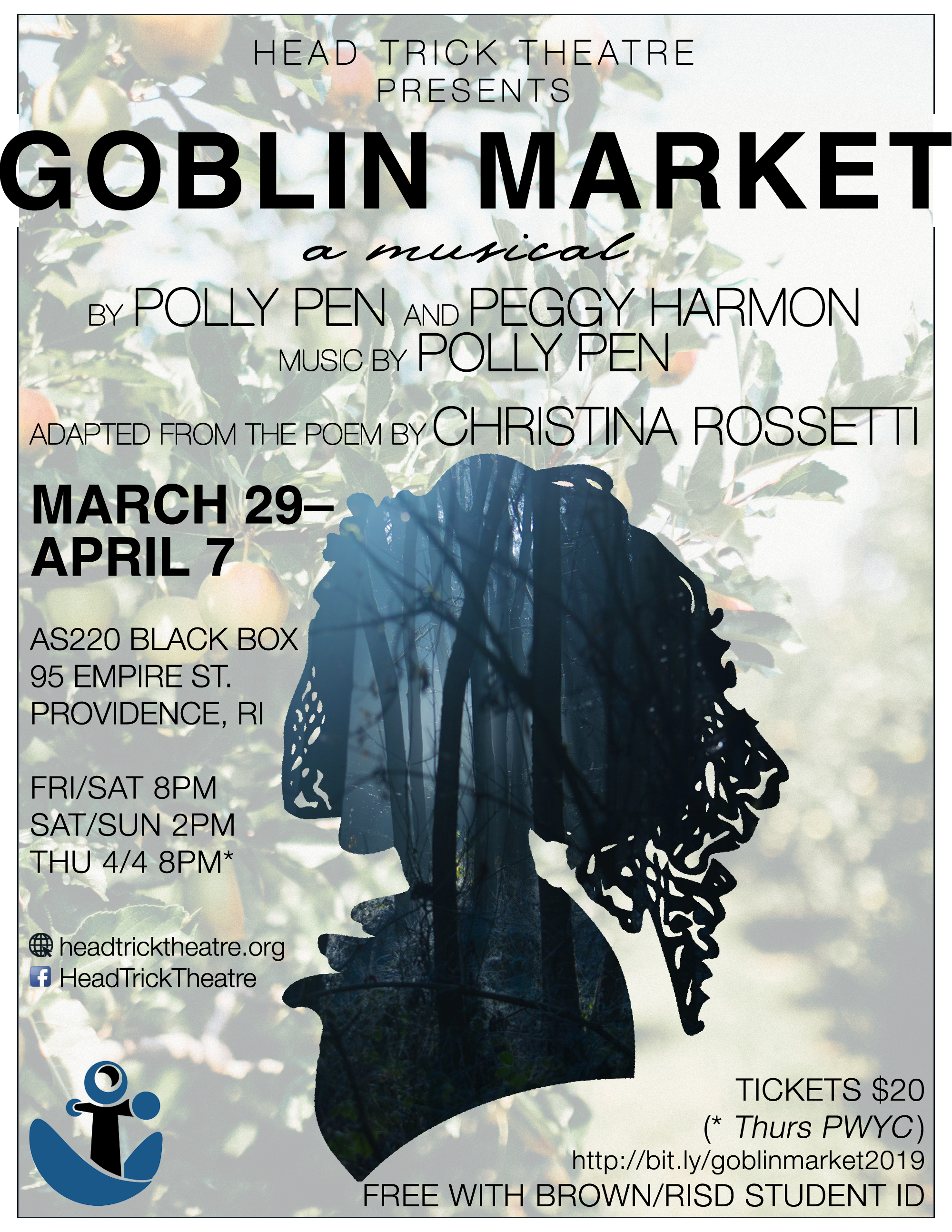 Two adult sisters return to their childhood home, where they once again come face to face with the perils and fantasies of their youth. In Polly Pen and Peggy Harmon's haunting chamber musical, adapted from Christina Rossetti's poem, the wilder Laura chafes against the limits of her ordinary life, and succumbs to the lure of the goblin fruits and the mysterious world they promise. It's up to cautious Lizzie to face down the goblins, and save herself and her sister from their darkest selves.
"Polly Pen and Peggy Harmon's musical adaptation adds so many interesting questions about memory and storytelling and female testimony to a poem that's been the subject of a century and a half of interpretation," says artistic director Rebecca Maxfield. "The sisters are choosing to tell and to re-live the story of these traumatic events many years later." Rich in symbolism and sensuality, Goblin Market explores the dueling powers of love and temptation, as Laura and Lizzie risk their lives, their bond, and the Victorian world they know for the otherworldly offerings of the goblin market.
Part of our 2018-19 "Making a World" season
"RICH AND THOUGHT-PROVOKING. Every element of Head Trick Theatre's production of this show comes together so well…
Sarah Kathleen Dunn and Sophie Adickes are both perfectly cast, embodying the differing attitudes and actions of both sisters. The entirety of the musical is on these two actresses [who] portray both the sisters and the goblins…the pair do a great job on top of being excellent singers. The choreography, by Carson Pavao…is seriously impressive.
The cast is accompanied by a piano, cello, and violin, led by musical director Billy Petterson. The music is…sometimes spare and haunting, sometimes energetic and bold, all well performed by the small band." —BroadwayWorld
A theatergoing experience that is unlike anything else you're likely to see…for a theatrical experience that seems grand even as it feels intimate, be sure to take some time for Goblin Market before it slips away, never to be seen again.—Motif Magazine
GOBLIN MARKET
by Polly Pen and Peggy Harmon
music by Polly Pen
adapted from the poem by Christina Rossetti
directed by Rebecca Maxfield
music directed by Billy Petterson
choreography by Carson Pavao
WITH:
Sophie Adickes as Lizzie
Sarah Dunn as Laura
Costumes: Marissa Dufault
Lighting: Josef Allen
AS220 Black Box | 95 Empire St. | Providence, RI 02903
Tickets $20 (* Thursday Pay-What-You-Can)
Online pre-order or door. Free with Brown/RISD student ID.
Friday, March 29: 8:00pm
Saturday, March 30: 2:00pm & 8:00pm
Sunday, March 31: 2:00pm
Thursday, April 4: 8:00pm
Friday, April 5: 8:00pm
Saturday, April 6: 2:00pm & 8:00pm
Sunday, April 7: 2:00pm
This activity is made possible in part by a grant from the Rhode Island State Council on the Arts, through an appropriation by the Rhode Island General Assembly and a grant from the National Endowment for the Arts.

Photos by Samantha Gaus