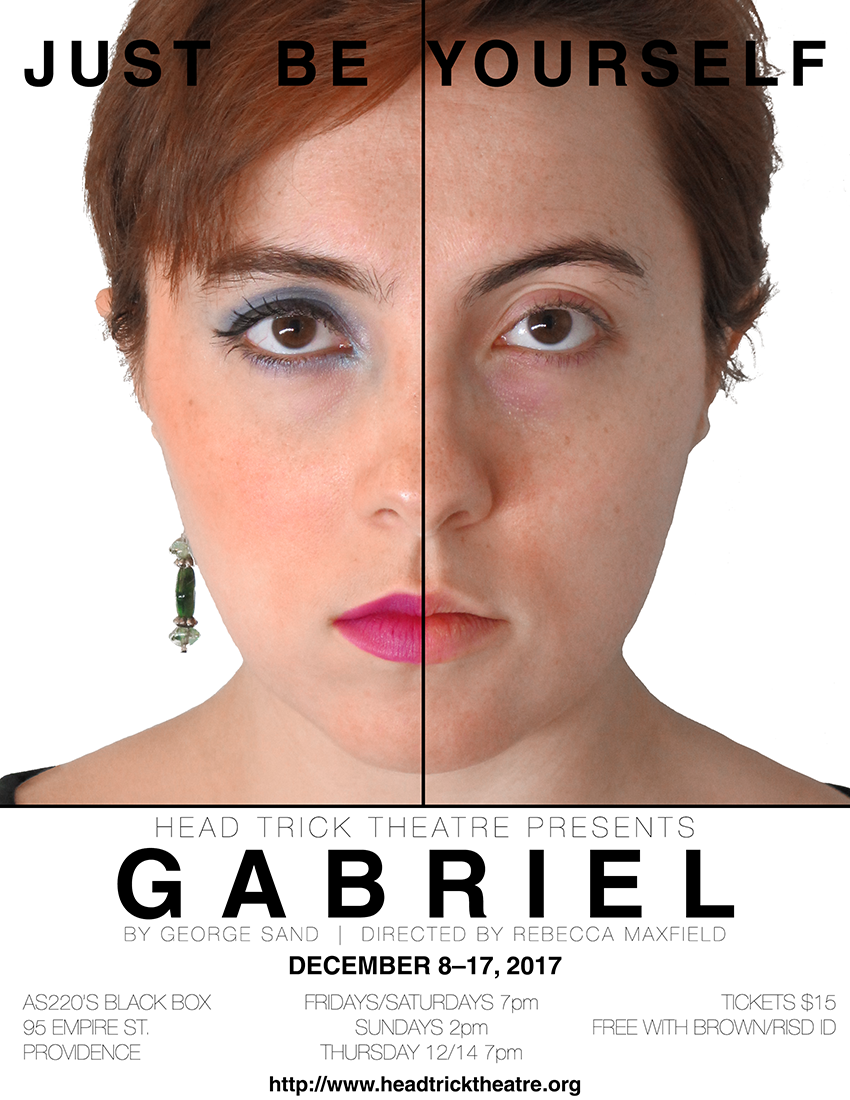 "Invested by an innovative director and uniformly excellent cast with surprisingly modern relevance…Head Trick breathes genuine life into Gabriel, a work that was way ahead of its time in understanding the subtleties of what makes men men and makes women women – if anything at all does." —Motif Magazine
"Powerful and stylish production…[Pavao] really comes into her own with her stunning portrayal of Gabriel." —Edge Media Network
The title character of George Sand's Gabriel is passionate, athletic, nobly-minded, and the heir to both a principality and a secret: Gabriel is female, raised as a boy since birth. The young prince's discovery of this secret plot to defraud the family's lawful heir forces a choice that strikes at the heart of Gabriel's sense of self: to ignore the voice of conscience and hold on to the rights and privileges of a man, or to live as a woman and sacrifice everything. Head Trick's production of Sand's feminist parable, performed by a cast of female and non-binary actors, pits Gabriel against criminals and princes, the fantastic and nightmarish world of Carnival, and the pervasive social inequality from which even love and friendship are not safe.
Part of Head Trick's 2017-18 season
GABRIEL
by George Sand (Aurore Dupin)
translated by Gay Smith (Manifold)
Performed December 8-17 at AS220's Black Box, Providence, RI
Directed by Rebecca Maxfield
GABRIEL…..Christine Pavao
ASTOLPHE…..Kelly Robertson
PRINCE JULES…..Sandra Laub
ABBÉ CHIAVARI…..Amy Thompson
FAUSTINA/VOLPE…..Destinee Mangum
ANTONIO/MEZZANI…..Ashley Macamaux
SETTIMIA/POLICEMAN…..Sarah Sinclair
BROTHER COMO/HOST…..Rebecca Tung
MARC…..Sissy O'Hara
SANCHO/MENRIQUE…..Nina Carbone
GIGLIO…..Morgan Potter
Fight Choreography: Ryan Stevenson
ABOUT THE PLAYWRIGHT
Amantine Lucile Aurore Dupin (1804-1876), who wrote as George Sand, is known for her unconventional lifestyle as much as for her writing. By adopting male dress, Sand shocked fashionable society, but was also able to experience firsthand a level of day-to-day freedom unavailable to most women. Her interest in women's rights influenced her novels and plays about the struggle for freedom and idealistic love against the constraints a fundamentally gender-unequal society places on women.
Performances were followed by special talkbacks with invited guests, including translator Gay Smith as well as guests from TGI Network of RI, RI Womxn's Action Initiative (formerly Women's March on Washington – RI Chapter), and more.