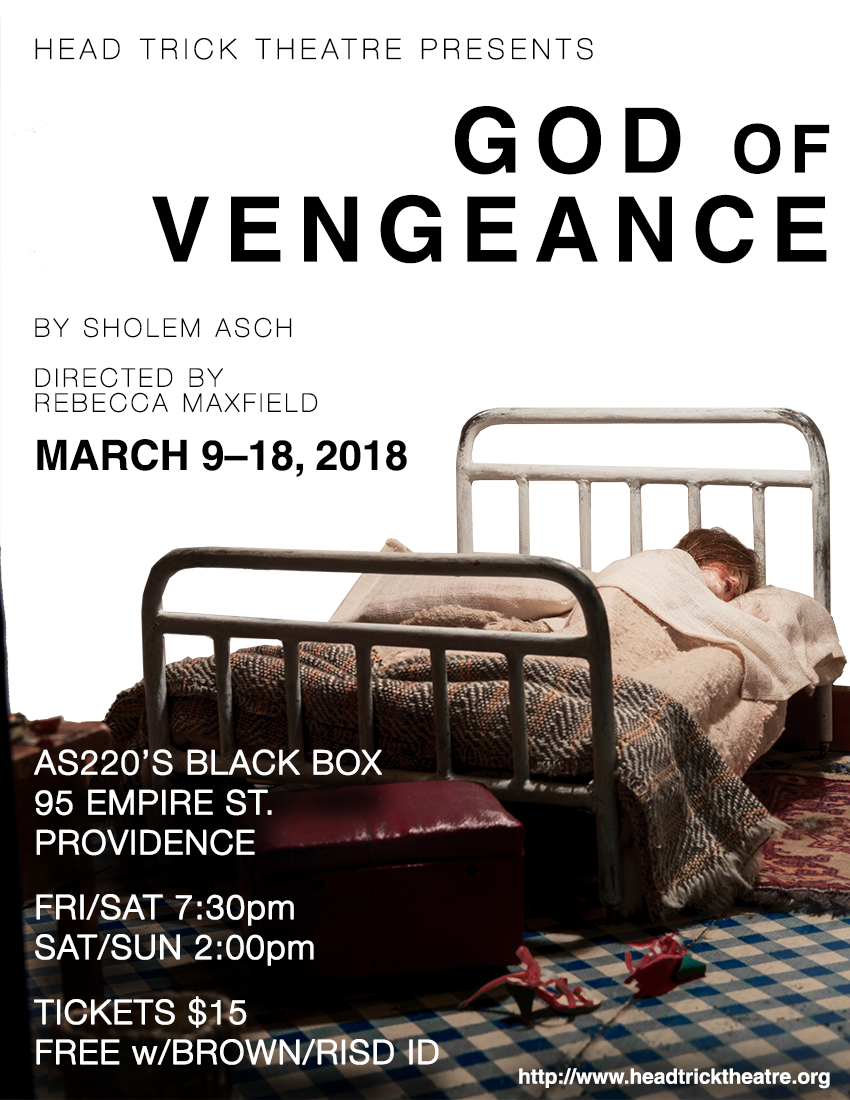 In a house built over a brothel, Yekel and Sarah struggle for a place in legitimate Jewish society as a pimp and a former prostitute. Everything hinges on marrying off their daughter Rifkele, but Rifkele's secret relationship with Manke, one of the women of the brothel, threatens their carefully laid plans. In Sholem Asch's GOD OF VENGEANCE, the boundary between the seedy underworld and the respectable world dissolves: when both are built on the sale of female bodies, which is the family home and which the brothel?
God of Vengeance – recently brought back into the spotlight by Best Play Tony nominee Indecent – caused a stir in 1923, when Broadway's first lesbian kiss got the cast and producers convicted of obscenity. The play grapples with intra-minority conflict and intersectional issues in ways that are still fresh today – yet its heart is a love story between two women that is timeless in its beauty. Head Trick will hold post-show talkbacks with special guests from Jewish, feminist, and LGBT organizations.
God of Vengeance continues Head Trick's 2017-18 season, which responds to the political climate not with stories of government tyranny or business corruption, but with plays by, and about, the people marginalized by policies and rhetoric that repress difference. "Women and minorities aren't a modern invention", says Head Trick's artistic director Rebecca Maxfield, whose company focuses on classic plays. "We've always been here, and in planning a season with the political situation at the forefront of our minds, Head Trick is choosing to put those voices and stories out there."
Head Trick Theatre presents
GOD OF VENGEANCE
by Sholem Asch
directed by Rebecca Maxfield
WITH:
Eric Behr
Susan Buttrick
Ian Hudgins
Ashley Moore
Christine Pavao
Emma Sacchetti
Julian Trilling
Rebecca Schmitt Tung
Jay Walker
Geoff White
PERFORMANCES
Friday March 9th, 7:30pm
Saturday March 10th, 2:00pm & 7:30pm
Sunday March 11th, 2:00pm
Friday March 16th, 7:30pm
Saturday March 17th, 2:00pm & 7:30pm
Sunday March 18th, 2:00pm
AS220 Black Box | 95 Empire St. | Providence, RI 02903
Performances will be followed by special talkbacks with invited guests.
Tickets $15, preorder online with Brown Paper Tickets or cash/card at door. Free at door with Brown/RISD student ID.